|

Last Updated:

December 15, 2021

|

Advertiser Disclosure

DefensiveDriving.org may receive compensation from the links you click on this site. This does not impact our reviews which remain our personal opinions and unbiased regardless of advertising you may see.

Brandon Myers

Getting ready to take the Louisiana permit test?  Here is a list of sample questions (answers not included) to help you practice.  We highly recommend taking a Louisiana practice permit test with DMV-written-test.com.  They are the best practice test provider in the space and when you buy their pdf-based Louisiana DMV cheat sheet, you can expect to pass 99.2% of the time.  These tests are not easy.  The Louisiana permit test is 40 questions long and you must get 32 of the questions correct to pass and get your learner's permit.  You can't afford to fail.  It's too costly in both money and time.  Visit DMV-written-test.com for more information on how you can better prepare yourself to pass the Louisiana permit test.
Sample Louisiana Permit Test Questions
_________ are the most frequent type of crashes on interstates.
A double solid white line on the road separates two lanes of traffic
A flashing yellow arrow means
According to Louisiana law, it is illegal for more than _________ to occupy the front seat of a moving vehicle.
At a railroad crossing, you must stop __________ from the nearest rail when a train is approaching.
At a speed of 50 mph under ideal conditions, your estimated stopping distance is
If you are 21 years of age or older and chemical testing shows that your blood alcohol concentration (BAC) is _________, your driving privileges will be suspended for 90 days.
If you are about to pass a bicycle to your right and an oncoming car is approaching you on your left, what should you do?
If you are approached by an authorized emergency vehicle using audible or visual signals, you must
If you are being followed too closely (tailgated), you should
If you miss your exit on an interstate highway, you must not
If you start to skid, you must
If you turn your ignition key to the lock position while your vehicle is in motion, you may
If your vehicle gets stuck on a railroad track, you must
In bad weather or on wet pavement, you should increase your following distance to _____ seconds.
In fog or a heavy downpour, you must slow down and
Large flashing or sequential arrow panels may be used in work zones in both day and night to
This green traffic signal indicates that
This sign indicates that
To enter an expressway or freeway, you must _________ before merging with highway traffic.
To prevent fatigue, you should rest every two hours and not drive more than
Under Louisiana law, you must use __________ when approaching within 500 feet of or following within 200 feet of another vehicle.
What does this figure mean?
What does this sequential arrow panel mean?
What does this sign indicate?
What does this sign mean?
What does this sign mean?
What does this sign mean?
What does this sign mean?
What does this sign mean?
What kind of parking is most often used in parking lots and shopping centers?
When a highway is divided into two roadways by a median or barrier,
When confronted by an aggressive driver, you should NOT
When parallel parked, your vehicle's right wheels must be within _________ of the right-hand curb of the street.
When two vehicles approach an uncontrolled intersection at about the same time,
Which of the following are signs of road rage?
Which of the following statements about blind spots is FALSE?
Which of the following statements about speed limits is FALSE?
You must continuously signal a turn for _________ before making the turn.
You must stop _________ from a stopped school bus that is loading or unloading children.
Summary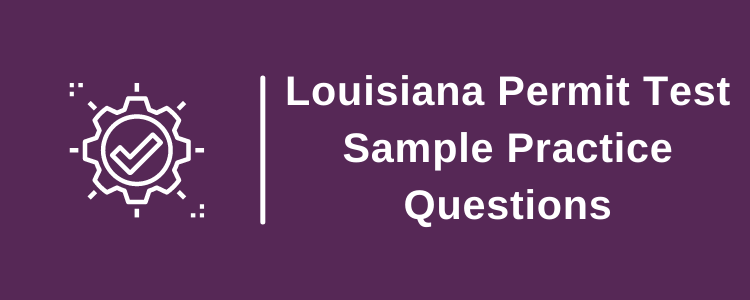 Article Name
Louisiana Permit Test Sample Practice Questions
Description
Here you will find an assortment of 40 questions that have been taken directly from the Louisiana DMV Permit Exam. These questions don't come with answers but do give you a feel of the types of questions you will face when attempting to pass the DMV written test to get your Louisiana Learner's Permit.
Author
Publisher Name
Publisher Logo