|

Last Updated:

December 15, 2021

|

Advertiser Disclosure

DefensiveDriving.org may receive compensation from the links you click on this site. This does not impact our reviews which remain our personal opinions and unbiased regardless of advertising you may see.

Brandon Myers

Getting ready to take the Missouri permit test?  Here is a list of sample questions (answers not included) to help you practice.  We highly recommend taking a Missouri practice permit test with DMV-written-test.com.  They are the best practice test provider in the space and when you buy their pdf-based Missouri DMV cheat sheet, you can expect to pass 99.2% of the time.  These tests are not easy.  The Missouri permit test is 25 questions long and you must get 20 of the questions correct to pass and get your learner's permit.  You can't afford to fail.  It's too costly in both money and time.  Visit DMV-written-test.com for more information on how you can better prepare yourself to pass the Missouri permit test.
Sample Missouri Permit Test Questions
________ are large blind spots around trucks where a car cannot be seen by the truck driver.
A vehicle's stopping distance is equal to
According to Missouri law, __________ must wear seat belts if the driver holds an intermediate driver license.
At a railroad crossing, you must stop _________ before the railroad tracks.
If there are no traffic signals, you must slow down or stop for pedestrians in
If there are two solid yellow lines next to your lane, you must
If you are about to pass a bicycle to your right and an oncoming vehicle is approaching you on your left, what should you do?
If you are under 21 years of age and are caught driving with a blood alcohol content (BAC) of ________, your driver license may be suspended.
If your vehicle starts to hydroplane, you should
In Missouri, when following a vehicle at night, you must use your low beams
On a roadway with three or more lanes traveling in the same direction, the leftmost lane is intended to be used
Reference markers are placed along the outside shoulder to mark the edge of the roadway. They give drivers information about
Signal a turn at least _________ before you make the turn.
The first step in Missouri's Graduated Driver License Program for young drivers is
This driver's hand signal indicates that this driver intends to
This sign indicates
This sign is
This sign warns drivers of
To obtain a driver license, you must pass
To pass a motorcycle, you should
To prevent highway hypnosis, you should
Under normal roadway conditions, you may not drive slower than ________ on interstate highways.
Use _________ to maintain a safe following distance behind the vehicle in front of you.
What does this sign indicate?
What does this sign mean?
What does this sign mean?
What does this sign mean?
What does this sign mean?
What does this sign mean?
When approaching a roundabout, you must
When are you allowed to pass on the right?
When driving in fog at night, you should use
When entering a highway, use the entrance ramp and __________ to increase your speed to match the speed of highway traffic.
When passing another vehicle, get through the other driver's blind spot as quickly as you can
When turning corners, turn the steering wheel using
When turning left from a two-way street onto a one-way street, you should
When you see or hear an emergency vehicle that is approaching from any direction while using a siren or air horn and a flashing red or blue light, you must
Which of these statements is FALSE?
You are approaching a school bus that has stopped to take on or discharge young passengers. You do NOT have to stop for the school bus if
You have parked next to a curb, facing downhill. Which way should you point your front wheels?
Summary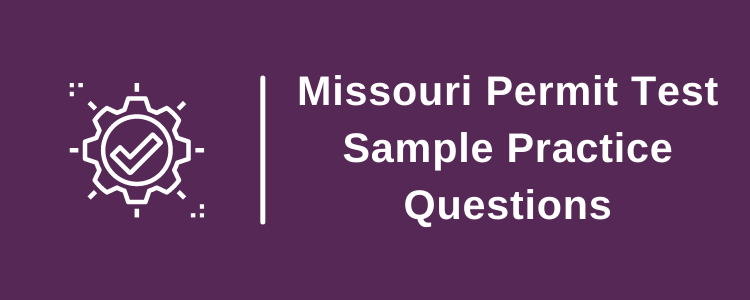 Article Name
Missouri Permit Test Sample Practice Questions
Description
Here you will find an assortment of 40 questions that have been taken directly from the Missouri DMV Permit Exam. These questions don't come with answers but do give you a feel of the types of questions you will face when attempting to pass the DMV written test to get your Missouri Learner's Permit.
Author
Publisher Name
Publisher Logo