|

Last Updated:

December 2, 2021

|

Advertiser Disclosure

DefensiveDriving.org may receive compensation from the links you click on this site. This does not impact our reviews which remain our personal opinions and unbiased regardless of advertising you may see.

Brandon Myers

Getting ready to take the Ohio permit test?  Here is a list of sample questions (answers not included) to help you practice.  We highly recommend taking an Ohio practice permit test with DMV-written-test.com.  They are the best practice test provider in the space and when you buy their pdf-based Ohio DMV cheat sheet, you can expect to pass 99.2% of the time.  These tests are not easy.  The Ohio permit test is 40 questions long and you must get 30 of the questions correct to pass and get your learner's permit.  You can't afford to fail.  It's too costly in both money and time.  Visit DMV-written-test.com for more information on how you can better prepare yourself to pass the California permit test.
Sample Ohio Permit Test Questions
A school bus is stopped with its red lights flashing on a street or road with fewer than four lanes. Which of the following is true?
At an intersection, what does this signal mean?
If an oncoming vehicle has its high beams on, you should look __________ until the vehicle has passed.
If the rear of your vehicle starts to skid on an icy road, what should you do?
If you approach a vehicle with a triangular orange sign on its rear, what should you do?
If you are approached by an emergency vehicle displaying flashing lights and an audible signal, you must
If you miss your exit on an interstate highway, what should you do?
If you strike a deer and kill it, Ohio law requires you to
If you want to make a turn, you must start to signal at least ________ before you turn.
If your vehicle stalls on railroad tracks when a train is approaching, what should you do?
In a school zone, the speed limit when children are going to or leaving school is
In Ohio, it is illegal to make a left turn at a red light EXCEPT
In Ohio, which of the following traffic violations carries six penalty points?
In which of the following situations are you NOT allowed to drive in the leftmost lane?
It is illegal to drive with a blood alcohol concentration (BAC) of _______ or higher.
On a one-way street, you may park your vehicle parallel to and not more than__________ from the right or left curb.
On a two-way road in Ohio, you may ________ after stopping at a red traffic signal.
On one-way roadways, solid yellow lines are used as
The letters "RR" painted on the pavement indicate that you are approaching
This sign and pavement markings allow
This sign indicates
This sign is used
To maintain a safe following distance behind the vehicle ahead of you, use
Under Ohio law, children who are under the age of _______ or weigh less than 40 pounds must be properly restrained in an approved child safety seat.
What does this sign indicate?
What does this sign indicate?
What does this sign indicate?
What does this sign indicate?
What does this sign mean?
What does this sign mean?
When you are being passed by another vehicle, you must _________ until the other vehicle has safely passed.
When you are closely following another vehicle at night, you must use
Which of the following statements about driving in fog is FALSE?
Which of the following statements about Ohio's speed limits is true?
Which of the following statements about pavement markings is correct?
While getting onto an expressway, you reach the end of the on-ramp. At this point, you should be traveling
Within a city or town, the speed limit in alleys is
You may not use the opposing lane to pass another vehicle when you are
You must use your headlights whenever you can't see objects __________ ahead clearly.
You should not exceed the speed limit of ___ if there no posted speed limit signs when driving on a city road.
Summary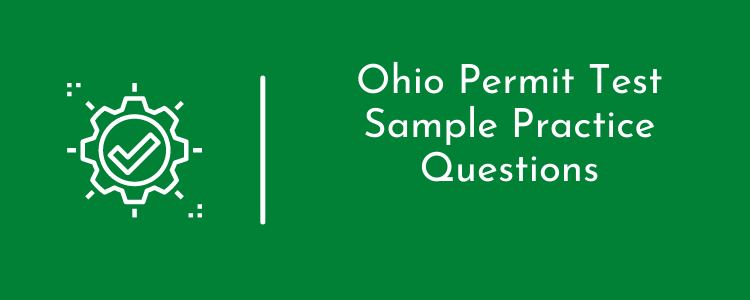 Article Name
Ohio Permit Test Sample Practice Questions
Description
Here you will find an assortment of 40 questions that have been taken directly from the Ohio DMV Permit Exam. These questions don't come with answers but do give you a feel of the types of questions you will face when attempting to pass the DMV written test to get your Ohio Learner's Permit.
Author
Publisher Name
Publisher Logo