|

Last Updated:

December 2, 2021

|

Advertiser Disclosure

DefensiveDriving.org may receive compensation from the links you click on this site. This does not impact our reviews which remain our personal opinions and unbiased regardless of advertising you may see.

Brandon Myers

Getting ready to take the Oklahoma permit test?  Here is a list of sample questions (answers not included) to help you practice.  We highly recommend taking an Oklahoma practice permit test with DMV-written-test.com.  They are the best practice test provider in the space and when you buy their pdf-based Oklahoma DMV cheat sheet, you can expect to pass 99.2% of the time.  These tests are not easy.  The Oklahoma permit test is 50 questions long and you must get 40 of the questions correct to pass and get your learner's permit.  With a $4 fee for test retakes, you can't afford to fail.  It's too costly in both money and time.  Visit DMV-written-test.com for more information on how you can better prepare yourself to pass the Oklahoma permit test.
Sample Oklahoma Permit Questions
At a railroad crossing, you must stop _________ from the nearest rail if a train is approaching.
Do not use the opposing lane to pass another vehicle unless you have at least _______ of clear roadway ahead of you.
Don't try to pass another vehicle if you are within _______ of an obstructed view.
For a driver who is at least 21 years of age, the legal limit for blood alcohol content (BAC) is
For an adequate cushion of safety in front of your vehicle, use
If a truck is trying to pass you, you can help the truck driver by
If an emergency vehicle is approaching you with a siren and flashing lights on, you must
If another driver is following you too closely (tailgating you), you must
If you approach a vehicle with a triangular reflective orange sign on its rear, what should you do?
If you are driving slower than the other traffic on an expressway, you should use
If you miss your exit on an expressway, what should you do?
In city driving, you should start to signal for at least _________ before you turn, slow down, or stop.
In heavy rain, your tires can ride on a film of water and lose contact with the road. This hazard is known as
In Oklahoma, you must dim your headlights whenever you are within ________ of an oncoming vehicle.
In which of the following places are you NOT allowed to park your vehicle?
On a multilane road, if you see _________ next to your lane, you may pass when it is safe to do so.
On Oklahoma's expressways, the minimum speed limit is usually
The proper hand position on the steering wheel for a solid and strong grip is
The stopping distance of your vehicle depends on which of the following factors?
This object is
This sign indicates
This sign indicates
This sign indicates
To enter an expressway, enter it in _________ and adjust your speed before changing lanes.
Under Oklahoma law, the maximum speed limit on four-lane divided highways and two-lane superhighways is _______ unless otherwise posted.
Under Oklahoma law, which occupants of a vehicle must wear seat belts or suitable child restraints?
Upon approaching an intersection, you see a pedestrian with a white cane crossing the street. You must stop
What does this image mean?
What does this sign mean?
What does this sign mean?
What does this sign mean?
What does this sign mean?
What does this signal mean?
What kind of parking is commonly found in parking lots and shopping centers and sometimes at curbs?
When two vehicles arrive at an intersection without traffic signs or signals at about the same time, which one has the right-of-way?
When you are turning from a one-way street onto a two-way street or divided roadway, you should turn from
When you brake a vehicle without antilock brakes on ice, snow, sleet, gravel, sand, and other loose surfaces, you should tap your brakes slightly at _________ intervals to avoid a skid.
When you're driving in fog at night, you should use your
You are driving on an undivided roadway. If you approach a school bus with flashing red lights or showing a red STOP sign, you must
You must use your headlights _________ and whenever visibility is limited.
Summary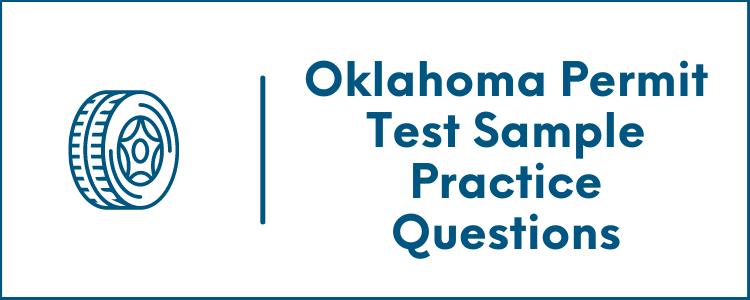 Article Name
Oklahoma Permit Test Sample Practice Questions
Description
Here you will find an assortment of 50 questions that have been taken directly from the Oklahoma DMV Permit Exam. These questions don't come with answers but do give you a feel of the types of questions you will face when attempting to pass the DMV written test to get your Oklahoma Learner's Permit.
Author
Publisher Name
Publisher Logo