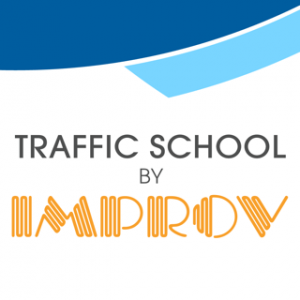 You have likely been to an improv comedy show at one point or another in your life.  The setup is pretty typical and usually includes comedy. Improv Traffic School has utilized the improv comedy concept in its defensive driving, and ticket dismissal teachings since before online traffic schools were established as a "thing." Now you can take defensive driving courses on your computer. Improv Traffic School has transitioned into this strange digital age admirably and can now be found at MyImprov.com.  It is also known as MyImprov. It is one of the top defensive driving schools in the nation. Improv Traffic School is offered in more states than 90% of online driving schools.
By combining a good drivers education with an online course available on almost any mobile device, we think you'll enjoy your experience with MyImprov.com.  Read our Improv Traffic School Review below.
Price:
★★★★★


Tech:

★★★★★


Overall:

★★★★★
Improv Traffic School DMV Approved States
Not every Improv Traffic School course is approved by the DMV.  The states and courses below are DMV approved and part of the ImprovTrafficSchool.com offering.
Improv's Aware Driver Arizona Defensive Driving Course
California Mature Driver Course
California Teen Driver Education Course
Aware Driver California Course (traffic school)
Delaware 6-Hour Defensive Driving Course
Delaware 3-Hour Refresher Course
Florida 4-Hour Traffic Law and Substance Abuse Education Course
Improv's Aware Driver Florida 8 Hour
Improv's Drive Safe Florida 4 Hour
Florida Mature Driver Discount Course (not yet available)
Improv's Aware Driver Georgia Defensive Driving (traffic school)
Georgia Teen Driver Training Course
Idaho Online Defensive Driver Course
Hoosier EZ Course – Driver Safety Program
Indiana Driver Training Course (not yet available)
Michigan Driver Improvement Course
Missouri Driver Improvement Course
New Jersey Point and Insurance Reduction Course
New Mexico 5-hour Defensive Driving by Improv Comedy Club
Nevada 5 Hour Online Course
Nevada 8 Hour DUI Course
Nevada Teen Driver Course
Improv's Aware Driver New York PIRP Online Course
Texas Defensive Driving by Improv Comedy Club
Texas Parent-Teen Driver 32-Hour Education Course (not yet available)
Virginia Driver Improvement Clinic Program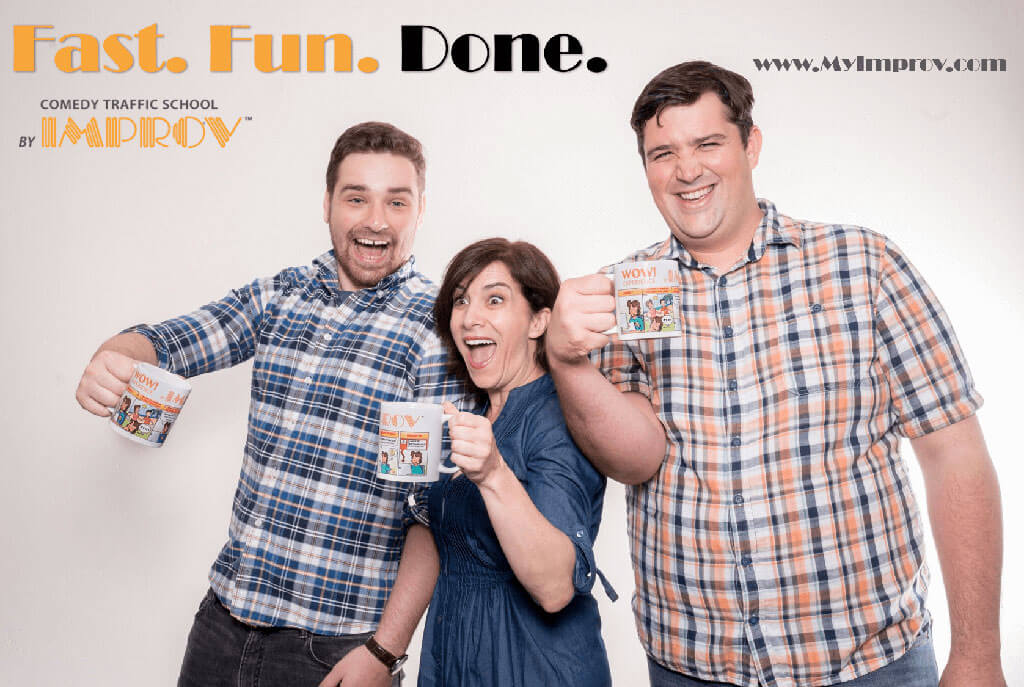 FLEET TRAINING COURSES
Improv Traffic School offers fleet and corporate driving safety courses.  These courses are excellent for training professional organizations. A good example is delivery drivers or public transport representatives.  Government organizations are also urged to check out Improv Traffic School.
Click on the following links for a state by state list of defensive driving courses. Courses by city are also available.
IMPROV TRAFFIC SCHOOL QUIZ ANSWERS
Did you think you would find the Improv Traffic School quiz answers here?  Think again (and about cheating)! What we do know about Improv Traffic School and their quiz process is that they're fair and considered to be easy in terms of difficulty.  These concepts will stick with you and make you a safer driver when you're on the roadways. We think it's worth taking the time to answer these questions. Put your best foot forward.  Don't cheat.
IMPROV TRAFFIC SCHOOL REVIEWS AND REPUTATION
We think that Improv Traffic School is an enjoyable experience.  They are mobile-friendly, funny, and fairly easy. We find all of these to be important factors in enjoying a ticket dismissal or insurance discount course.  MyImprov Traffic School does a good job of keeping us engaged. We felt like Improv Traffic School helped us learn more than a few concepts to assist with our driving.  Some insights on parallel parking have already assisted in my day to day activities.
Don't just take my word for it. Improv Traffic School is well-reviewed on almost every network where reviews are available.  It has a 4.7 rating out of 5 with ShopperApproved. A staggering 132,317 people have taken the time to review the course as of today's publishing.  It has an A+ rating with the Better Business Bureau. With fair pricing and DMV certification in several different states, this is one of the good defensive driving schools online that you can rely on.
MYIMPROV TRAFFIC SCHOOL MONEY BACK GUARANTEE
Most of the top traffic schools offer a 100% money-back guarantee in their terms and conditions.  Improv Traffic School is one of those top schools. You are guaranteed your money back up until you take the final exam at the end of a course.  Don't sign up with a course provider without this type of guarantee in the contract terms.
MY IMPROV CUSTOMER SERVICE
Some providers aren't open 24 hours a day.  That can be a burden if you're up against a tight deadline with a state court system.  MyImprov Traffic School is not one of these schools that leaves you hanging. They have customer service representatives staffed and ready to help you 24/7 and 365 days a year.  Even on Christmas and New Years Day, you can count on them to help you out.

CONTENT UPDATED REGULARLY
MyImprov Defensive Driving courses are one of a handful of online courses that update their content regularly.  They take education as seriously as the improv entertainment they love to combine their offerings with! The interface on MyImprov.com is fresh and updated.  Many schools are outdated with their online offerings, especially when they've been around as long as this one. Improv Traffic School continues to defy the odds and evolves quickly to remain on top of the online defensive driving school world.  Fun and engaging content along with a technologically savvy interface make passing this course a breeze.
FREE COMEDY CLUB TICKETS WITH DEFENSIVE DRIVING
Want free comedy club tickets with defensive driving and ticket dismissal courses?  You've come to the right place. When you take an Improv Defensive Driving course, you'll receive a pair of free tickets to one of the many Improv Comedy Clubs.  You can find a list of these clubs here. These tickets can run as high as $50, depending on the act you land. It's a wonderful perk to go with a wonderful course.