Atlanta has some of the worst traffic in the nation. The city is ranked seventh among other large cities in America for their traffic and commute. Atlanta congestion causes drivers in the city to spend an average of 51 extra hours behind the wheel each year.
The city is ranked second for worst drivers in another survey. They have a troubling ranking for safety and poor driving skills. This, in a sprawling city where driving is essential to getting around.
While Atlanta drivers have a tough time getting around safely, there is something you can do to make your daily commute safer: enroll in a defensive driving course. With a defensive driving course from one of Atlanta's leading driving schools, you'll learn how to get where you're going and back with safe, defensive driving skills. The course will teach you how to avoid collisions, drive responsibly, and react calmly to any emergency on the road.
Atlanta drivers can complete several different driving courses, including DUI risk reduction, defensive driving, Alive at 25, and behind the wheel driving education. Drivers who have gotten a ticket can often use defensive driving courses to have that ticket dismissed or to earn a discount on auto insurance premiums. And ultimately, each course offered by Atlanta's defensive driving schools will improve your safe driving skills — and might save your life one day.
We've shared Atlanta's best defensive driving schools here. These schools are trusted, established, and prepared to deliver a professional, highly educational defensive driving experience.
Each of these schools is a great choice, so they're listed in no particular order. But we want to know which one you think is best! Please vote in our poll at the end of this article to tell us which one of Atlanta's best driving schools has your vote. Don't wait, though: the poll will close in 30 days!
325 Hammond Dr NE Ste 130, Sandy Springs, GA 30328
1 Act DUI & Defensive Driving School sets the highest standard for traffic schools in Atlanta. They deliver incredible service, gourmet lunches, coffee, Wi-Fi, and 7 days and nights a week phone service. The school specializes in defensive driving, DUI, and alcohol and drug evaluations. Classes focus on safety, knowledge, and improvement of safe driver techniques with helpful support.
5105 Peachtree Industrial Blvd Atlanta, GA 30341
Nathan's Driving School is owned and operated by Nathan Lewit, a driving education professional with more than 40 years in the business. Lewit and his instructors have worked together for many years, and they have families that have relied on Nathan's Driving School for years to provide the best driver education to their loved ones. Nathan's Driving School is a member of the National Safety Council and the Driving School Association of the Americas. The school has been licensed by the state of Georgia since 1986. They're proud of their excellent reputation and often rely on word of mouth marketing spread by satisfied customers to further grow the driving school.
255 Langley Dr, Lawrenceville, GA 30045
A-1 Driving School has served the Atlanta area since 1987. This school is family owned and operated and has helped thousands of drivers and continues to serve thousands each year. They offer DUI school, risk reduction classes, defensive driving courses, Joshua's Law programs, driver's education, and teen and adult driving lessons. The school has 20 convenient locations as well as convenient flexible schedules for completing courses.
520 W Ponce de Leon Ave Unit 3154, Decatur, GA 30030
Each behind the wheel lesson includes pick-up and drop-off from work, home or school.
We use modern dual controlled training vehicles for safety.
We have flexible scheduling for behind the lessons, we operate 7 days per week.
Each instructor is professionally trained.
6 or more hours qualify students for an insurance reduction certificate.
We offer full Road Test car rental service.
We train for Roadway Safety!
Visit www.myimprov.com to find a location near you!
Texas law allows individuals to complete defensive driving classes either in person through a commercial driving school or through an online provider approved by the Texas Department of Licensing and Regulation (TDLR). While both options have their advantages, there's no doubt that most drivers find online courses to be the most convenient. After all, you can work on the course at any time of the day or night with the availability of taking breaks.
5234 Old National Hwy, College Park, GA 30349
A-Abacus DUI & Defensive Driving School has served metro Atlanta for more than 15 years. They offer DUI classes, defensive driving, clinical evaluations, DUI offender treatment, anger management evaluations and classes, theft prevention, teen driver education, and behind the wheel driving lessons for teens and adults. The school is certified by the Georgia Department of Driver Services and their programs will satisfy most Georgia court orders. A-Abacus DUI & Defensive Driving School has two convenient locations: College Park and Marietta. They also offer classes in English, Spanish, and French.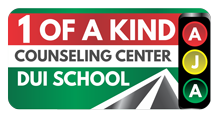 1874 Piedmont Rd Ste A101, Atlanta, GA 30324
AJA DUI School is a one-stop-shop and full-service solution for DUI, driver improvement, and driver counseling. They offer risk reduction courses, defensive driving, alcohol and drug evaluations, drug testing, mental health services, and even ignition interlock installation service. The school provides multiple convenient locations as well as a flexible schedule. They're committed to helping every driver get back on the road safely.
2692 Harris St #200, East Point, GA 30344
Splindit Driving School is a full-service Atlanta driving school. They're bonded, insured, and licensed by the Georgia Department of Driver Services. The school offers courses in DUI risk reduction, defensive driving, driver's education, behind the wheel driver training, and online virtual driver education. Classes are often available on both weekends and weekdays. Splindit's staff are professional, dedicated, and committed to meeting 100% of student requirements, applying all necessary resources to deliver service with integrity and reliability.
1944 Donald Lee Hollowell Pkwy NW, Atlanta, GA 30318
Peachtree DUI & Defensive Driving Clinic offers students a positive and rewarding experience. Students can enroll in a number of programs with this clinic, including the DUI risk reduction class, defensive driving, Alive at 25, anger management, clinical evaluations, and ASAM Level 1 Treatment Group Meetings. The school has free Wi-Fi and free parking as well as the best customer support in the industry. Their goal is to deliver excellent customer service to every student as they're treated with kindness and respect. Peachtree DUI & Defensive Driving Clinic has three convenient locations and multiple class schedules to choose from.
1924 Clairmont Rd Ste 30, Decatur, GA 30329
Just Drive Right Driving School specializes in driver education training. Students can enroll and prepare for the Georgia road driving test with safe, caring instructors who emphasize the importance of defensive driving. The school offers private one on one lessons in one to two-hour sessions with free pickup from home in selected locations. Their students enjoy a high rate of first attempt passing, indicating that this school offers an excellent level of driving education.
1514 Cleveland Ave #12B, East Point, GA 30344
Drive Again Driving School offers courses for individuals related to Driver Education, Behind the Wheel, and Defensive Driving. The Defensive Driving class can be used for license reinstatement, insurance premium, and point reduction.
Want to be added to this list?
Click here
to bring up our submission form. We will be in touch shortly with feedback.