Burleson is growing.  With the ample job opportunities in the area and plenty of amenities, it's really not surprising.  There has been an increase in traffic tickets as a result.  Burleson drivers are usually surprised to hear they're eligible to take a defensive driving class every 12 months to dismiss a recent traffic ticket at a driving school.  This is also known as a TEA driver safety course.
Online Defensive Driving Course for $25.00
Our course helps you learn quickly and easily, using state-specific questions and easy-to-understand answers.
Dismiss your ticket online, on your schedule
Upgrade and print your certificate from home
Approved by all Texas courts

Many of you have probably reached this page by searching for "defensive driving near me."  In reality, you don't even need a classroom in Burleson to take a driver safety course.  Your online defensive driving course can be taken for as little as $25.  It even includes online certificate delivery and filing with the DPS.
Increase in Burleson Drivers
The city of Burleson has been synonymous with growth in the last few calendar years. The population is growing in the area at an enormous scale. Over 44,000 lived in the Burleson city limits as of 2018. The population number in the city grows an average of 3% every 365 days. It's easy to see why Burleson is growing. Employment in the area is on the rise at nearly 4% per annum. Median household incomes match that growth number and are also growing at just over 4% per year. If you've invested in a house in Burleson you've been rewarded with massive returns. Median property values surged 11% year over year to $167,100 providing a sizable profit for a very manageable property investment amount. There's a lot to like statistically about the area.
With jobs on the rise, nearly 50% of Burleson's population is employed on a full-time basis. That means nearly 20,000 cars are hitting the Texas roadways each day in the city for their commute to work. With so many cars on the highway, there has been an increase in traffic congestion and traffic citations in the area. If you're reading this and you've received a traffic ticket in Burleson, you shouldn't worry. Take defensive driving online and affordably to dismiss your ticket and get out of a much larger fine with the state of Texas. More importantly, you can refresh your driving skills to become a safer driver. All of us on the Texas roadways are grateful to you for these efforts.
Best Online Defensive Driving Schools in Burleson
If you happen to get a traffic ticket in Burleson, defensive driving can help you out. In most cases, Texas drivers can have their tickets dismissed by completing a state-approved defensive driving course. It can even be done online. Check out these top 5 defensive driving providers. Every court in the state approves all. There's nothing better than an online defensive driving course. It allows you to avoid a hefty penalty without leaving the confines of your home. We think that's a pretty sweet deal.

Online certificate delivery via Email

Fastest course allowed by law

Texas owned small business

TDLR School License C2861


Approved by All Texas Courts

Shortest class allowed by law

Online completion certificate delivery via email

TDLR School License C2876


Guaranteed to pass. No final exam!

Shortest class allowed by law

Approved by all Texas courts

TDLR School License C3249

Burleson Defensive Driving Schools
In the coronavirus's day and age, we recommend everyone be safe and avoid contact indoors whenever possible. As a result, we urge everyone to take an online defensive driving course to stay safe. If you require a physical Burleson Defensive Driving School, the following are listed and detailed in a non-ranking order.
We do not rank our list of Burleson's best defensive driving schools. You can be sure that all of these schools offer a licensed standard of drivers education that is certified and regulated by the state. In that sense, any of these schools will keep you in safe hands.
We'd like to leave ranking to the experts: you! Let us know which school you prefer on our list below by voting and providing your feedback. The rest of the residents in Burleson, Texas thank you!
7920 Glenview Dr, Richland Hills, TX 76180
Approved Course offers a number of Texas driving courses approved by the Texas Education Agency. Choose from defensive driving, adult drivers ed, and teen drivers ed. This school promises the lowest price guaranteed by law and a great option to save money on your car insurance. Smart learning tools including engaging animations and video, as well as multiple-choice quizzes and online practice tests, will help you stay on top of your driver safety course. There is also a 24/7 customer service available with this school.
3575 Lone Star Circle St 118, Fort Worth, Texas 76177
Total Driving Experience focuses on skills-based driving education. Students will enjoy safe, educational fun in a high-performance driving environment. This school teaches students how to drive with a great understanding of car control and handling, helping them to survive the dangerous roads of Fort Worth. Total Driving Experience instructors are race car drivers dedicated to teaching students the essential skills of handling vehicles safely and avoiding accidents.
Visit the Comedy Guys to find a location near you!
Comedy Guys Defensive Driving has made defensive driving classes fun for more than 22 years. They make it easy for Texas residents to improve their driving skills, dismiss traffic tickets, and lower auto insurance rates while enjoying laughs along the way. Comedy Guys Defensive Driving makes defensive driving engaging and helps students learn more by staying interested. The school is now one of the largest and busiest driving safety schools in Arlington and the Dallas-Fort Worth area. Classes are held every day of the week and 24/7 online. Students enjoy the convenience of Comedy Guys Defensive Driving's multiple locations, frequent courses, and online course options. They are committed to making safe driving entertaining and deliver excellent customer service.
7920 Glenview Dr, Richland Hills, TX 76180
A Sense of Humor Driving School provides students with a hassle-free ticket dismissal experience. With this school, you can complete your defensive driving course on your own schedule. Simply study independently, then pass the multiple-choice final exam. A Sense of Humor Driving School is approved by the Texas Education Agency and a member of the U.S. Chamber of Commerce.
4255 Bryant Irvin Rd Ste 105, Fort Worth, TX 76109
Whether you are new to the driving world, an experienced driver who needs to remove a traffic ticket, or someone who is considering making driving a full-time or part-time profession, First Class Driver is the place to start.
We are a full-service driving center that makes it easy and fun to get behind the wheel and down the road of life. First Class Driver has helped thousands of people like you to enjoy the fun and freedom that comes with being a safe, licensed driver.
4255 Bryant Irvin Rd Ste 205, Fort Worth, TX 76109
For nearly 20 years, First Class Driver has been a leading driving school in the Dallas-Fort Worth metroplex serving Arlington's students. They've helped many teen and adult drivers as they learn how to drive safely and earn their driver's license. First Class Driver has also helped drivers improve their driving records and even become driving safety instructors. The school offers personal training, entertaining classes, and an engaging, supportive classroom.
Visit Austindrivingschool.com for locations near you!
Based in Austin with locations in San Antonio and the surrounding areas, Austin Driving School offers a number of different driving courses to meet the needs of Texas drivers. This school has courses in Teenage driver's education, adult driving, and defensive driving as well as courses for minor in possession offenders, DWI offenders, and drug offenders. Austin Driving School is state certified, bonded, and insured, as well as committed to saving lives, reducing stress, and promoting responsible driving habits.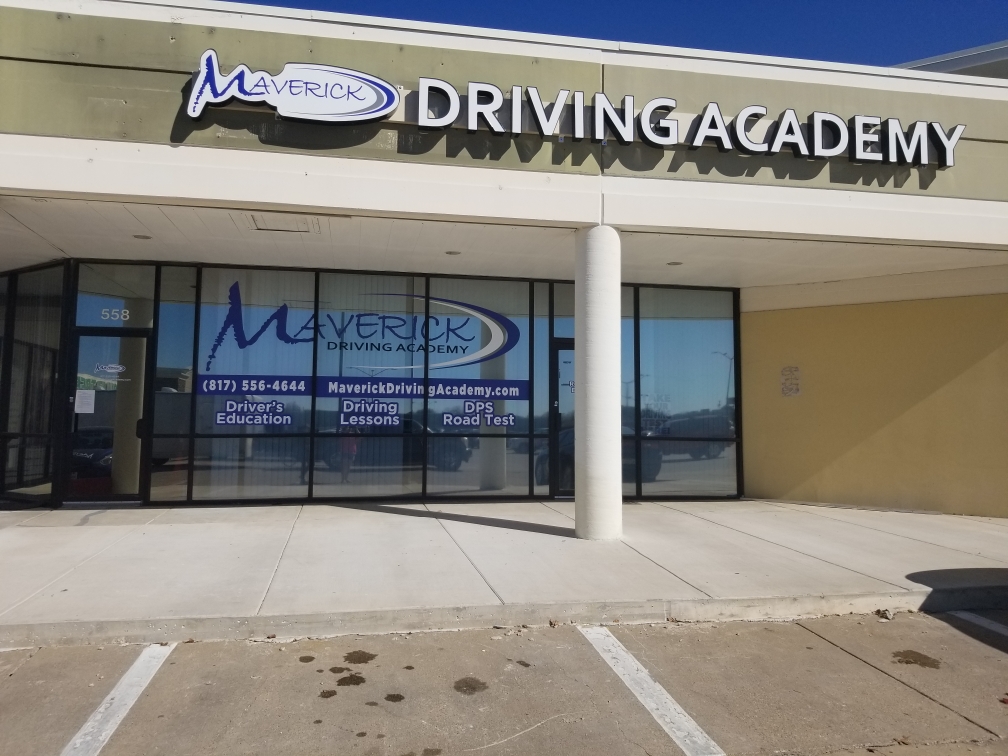 509 SW Wilshire Unit D, Burleson, TX 76028
Maverick Driving Academy serves all of Johnson and Tarrant counties with driving education, with locations in Burleson and Aledo. Driving instruction, as well as defensive driving, are offered by Maverick, and all instructors are certified classroom teachers as well as certified to teach in vehicles. This school takes its responsibility to teach students how to drive seriously with a commitment to providing safe, responsible driving instruction. Courses with Maverick Driving Academy are fun and informative as well as an interactive learning environment.
5200 N Tarrant Pkwy #124, Fort Worth, TX 76137
Local drivers education service for adults and teens!
209 NE Wilshire Blvd, Burleson, TX 76028
The Burleson Driving Academy offers Teen and Adult Classes. Our instructors are all licensed by the Texas Education Agency and share the goal to give students the information and experience they need to become safe drivers.
Want to be added to this list?
Click here
to bring up our submission form. We will be in touch shortly with feedback.

Online certificate delivery via Email

Fastest course allowed by law

Texas owned small business

TDLR School License C2861


Approved by All Texas Courts

Shortest class allowed by law

Online completion certificate delivery via email

TDLR School License C2876


Guaranteed to pass. No final exam!

Shortest class allowed by law

Approved by all Texas courts

TDLR School License C3249