The Keller area is on the rise.  With the ample job opportunities in the area and plenty of amenities, it's not surprising to see the growth in Keller, Texas.  With the increase in cars has come an increase in traffic tickets.  Keller drivers are usually surprised to hear they're eligible to take a defensive driving class every 12 months to dismiss a recent traffic ticket at a driving school.  This is also known as a TEA driver safety course.
Online Defensive Driving Course for $25.00
Our course helps you learn quickly and easily, using state-specific questions and easy-to-understand answers.
Dismiss your ticket online, on your schedule
Upgrade and print your certificate from home
Approved by all Texas courts

Many of you have probably reached this page by searching for "defensive driving near me."  In reality, you don't even need a classroom in Keller to take a driver safety course.  Your online defensive driving course can be taken for as little as $25.  It even includes online certificate delivery and filing with the DPS.
More Drivers in Keller, TX
Residents of Keller, Texas have seen steady growth in terms of the population over the last decade. In 2018 the city had a population of just under 50,000 and was growing at a clip of just under 2% per year. It's easy to see why new residents of Keller have been attracted to the area. Employment is consistent and growing with the city adding 2.2% new jobs each year on average. Median household income in Keller attracts a middle career profession with median household incomes nearly doubling the average in the rest of the 50 states. At $133,266, Keller professionals are taking home over 5% more cash per year. While homes are more expensive in the area at $355,300 on average, those who have invested in them are seeing returns of over 6% per year in overall value.
Nearly 50% of the Keller population is employed and commutes to work each day. That means 22,000 cars are jamming the local roadways Monday through Friday. With the surge has come an increase in traffic congestion and traffic citations. If you've received a traffic ticket in the Keller area, you're not alone and you shouldn't worry. Take defensive driving online and affordably to dismiss your ticket and get out of a much bigger fine with the state of Texas. While you do refresh your driving skills and become a safer driver. Your fellow Texans appreciate you taking this seriously.
Texas drivers are eligible to take a defensive driving course every 12 months to dismiss a recent traffic ticket. The price of such a course is minimal. You can also complete this course with a top online provider so that you never have to leave your couch!
Best Online Defensive Driving Schools in Keller
If you happen to get a traffic ticket in Keller, defensive driving can help you out. In most cases, Texas drivers can have their tickets dismissed by completing a state-approved defensive driving course. It can even be done online. Check out these top 5 defensive driving providers. Every court in the state approves all. There's nothing better than an online defensive driving course. It allows you to avoid a hefty penalty without leaving the confines of your home. We think that's a pretty sweet deal.

Online certificate delivery via Email

Fastest course allowed by law

Texas owned small business

TDLR School License C2861


Approved by All Texas Courts

Shortest class allowed by law

Online completion certificate delivery via email

TDLR School License C2876


Guaranteed to pass. No final exam!

Shortest class allowed by law

Approved by all Texas courts

TDLR School License C3249

Keller Defensive Driving Schools
In the coronavirus's day and age, we recommend everyone be safe and avoid contact indoors whenever possible. As a result, we urge everyone to take an online defensive driving course to stay safe. If you require a physical Keller Defensive Driving School, the following are listed and detailed in a non-ranking order.
We do not rank our list of Keller's best defensive driving schools. You can be sure that all of these schools offer a licensed standard of drivers education that is certified and regulated by the state. In that sense, any of these schools will keep you in safe hands.
We'd like to leave ranking to the experts: you! Let us know which school you prefer on our list below by voting and providing your feedback. The rest of the residents in Keller, Texas thank you!
7920 Glenview Dr, Richland Hills, TX 76180
Approved Course offers a number of Texas driving courses approved by the Texas Education Agency. Choose from defensive driving, adult drivers ed, and teen drivers ed. This school promises the lowest price guaranteed by law and a great option to save money on your car insurance. Smart learning tools including engaging animations and video, as well as multiple-choice quizzes and online practice tests, will help you stay on top of your driver safety course. There is also a 24/7 customer service available with this school.
7920 Glenview Dr, Richland Hills, TX 76180
A Sense of Humor Driving School provides students with a hassle-free ticket dismissal experience. With this school, you can complete your defensive driving course on your own schedule. Simply study independently, then pass the multiple-choice final exam. A Sense of Humor Driving School is approved by the Texas Education Agency and a member of the U.S. Chamber of Commerce.
4255 Bryant Irvin Rd Ste 205, Fort Worth, TX 76109
First Class Driver has served the Dallas Fort Worth Metroplex for nearly 20 years. This school has helped both teen and adult drivers qualify for their license, learn how to drive safely, and remove tickets from their driving records. They have even trained a number of driving safety instructors. Students of First Class Driver enjoy personal, fun, and entertaining classes in an engaging atmosphere. First Class Driver promises to be your most fun driving education experience, both in the classroom and behind the wheel.
Visit www.drivingschoolcarrollton.com to find a location near you!
Local family owned and operated Drive Smart Driving School offers full service driving instruction with excellent experience, quality of instruction, and low cost. Students are treated with individual attention and excellent customer service, and instructors offer a high level of expertise. Together, the partners of Drive Smart Driving School have more than 50 years of driver education experience, ranging from teaching teens to drive to completing driving safety classes for adults. Bilingual instruction is available.
Visit www.burlesondriving.com for a location near you!
Burleson Driving Academy is locally owned with multiple locations in Burleson, Weatherford, and North Richland Hills. Teen and adult classes are available, and instructors are licensed by the Texas Education Agency. Each instructor is excited to give students the information and experience they need to become safe drivers.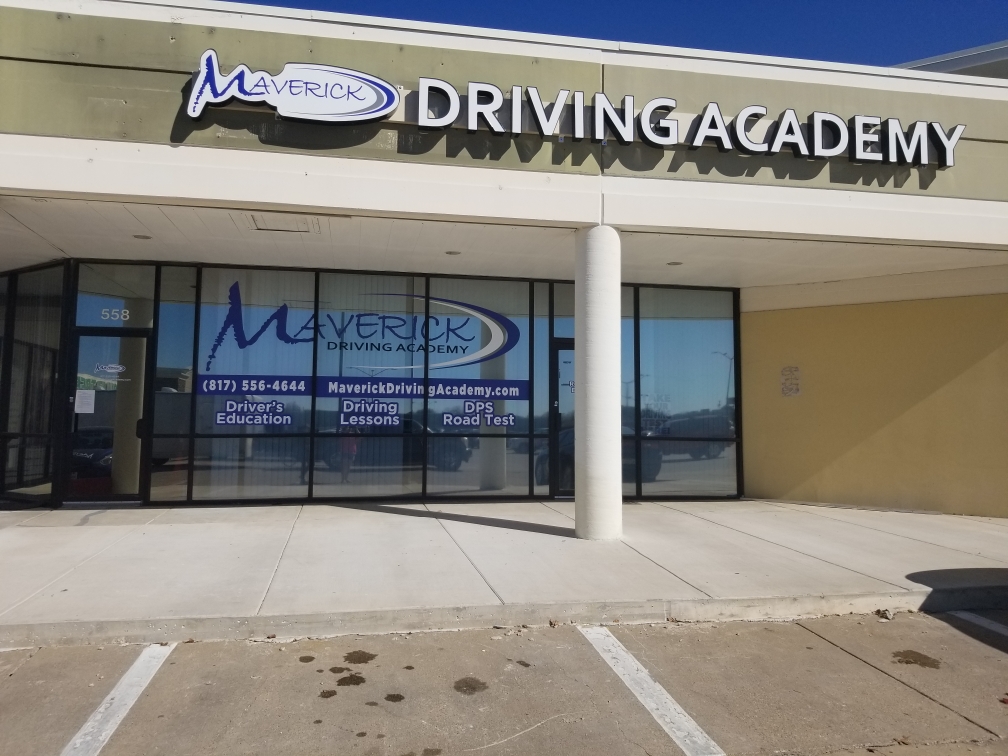 509 SW Wilshire Unit D, Burleson, TX 76028
Maverick Driving Academy serves all of Johnson and Tarrant counties with driving education, with locations in Burleson and Aledo. Driving instruction, as well as defensive driving, are offered by Maverick, and all instructors are certified classroom teachers as well as certified to teach in vehicles. This school takes its responsibility to teach students how to drive seriously with a commitment to providing safe, responsible driving instruction. Courses with Maverick Driving Academy are fun and informative as well as an interactive learning environment.
5200 N Tarrant Pkwy #124, Fort Worth, TX 76137
Local drivers education service for adults and teens!
303 N Main St, Keller, TX 76248
We offer a driver's education course geared to help teenagers and adults in the Keller and surrounding areas learn how to drive.
5200 N Tarrant Pkwy #124, Fort Worth, TX 76137
Local drivers education courses provided for drivers of all ages!
9745 Gallatin Ln, Fort Worth, TX 76177
Our driving safety course is designed to be entertaining while being informative. You can finish our shortest and easiest course in one sitting of 5 hours or you may choose to logout and come back at your convenience and resume from any device. Along with the audio option, we offer several fun games that you can play while you listen to the lessons. We try to take the chore out of taking a defensive driving course.
Want to be added to this list?
Click here
to bring up our submission form. We will be in touch shortly with feedback.

Online certificate delivery via Email

Fastest course allowed by law

Texas owned small business

TDLR School License C2861


Approved by All Texas Courts

Shortest class allowed by law

Online completion certificate delivery via email

TDLR School License C2876


Guaranteed to pass. No final exam!

Shortest class allowed by law

Approved by all Texas courts

TDLR School License C3249