|

Last Updated:

January 11, 2021

by Brandon Myers

Driving in Fort Worth can be an adventure. With some of the worst commutes in the United States, drivers in Fort Worth face more traffic jams daily than many others in the country. The heavy traffic takes a toll. Fort Worth Drivers are more likely to get in an accident. Drivers in Fort Worth have a 26.1% accident likelihood rating.

While driving in Fort Worth can be tedious and dangerous, you can make your driving experience a more positive one by getting professional training. Enroll in a defensive driving class, and you'll learn from the professionals how you can be more alert, and more efficient on the road — even when other drivers aren't.

In addition to improving your road safety, a qualified defensive driving course can get you out of a ticket or reduce your auto insurance rates. With defensive driving, you can dismiss minor traffic tickets, avoiding penalties and insurance hikes. You can even reduce your auto insurance rate by completing a defensive driving course.

Defensive Driving courses are no longer limited to a classroom. You can now dismiss your ticket or lower your insurance with an easy online course.
Best Online Defensive Driving Schools in Fort Worth
If you happen to get a traffic ticket in Fort Worth, defensive driving can help you out. In most cases, Texas drivers are able to have their tickets dismissed by successfully completing a state-approved defensive driving course. It can even be done online. Check out these top 5 defensive driving providers. All are approved by every court in the state. There's nothing better than an online defensive driving course. It allows you to avoid a hefty penalty without leaving the confines of your home. We think that's a pretty sweet deal.
Defensive Driving Schools in Fort Worth – In-Person Courses
Don't want an online course? Learn better in person? We've also highlighted 10 of the very best defensive driving schools that Fort Worth has to offer. Check out our completed Defensive Driving school vote below!

7920 Glenview Dr, Richland Hills, TX 76180
Approved Course offers a number of Texas driving courses approved by the Texas Education Agency. Choose from defensive driving, adult drivers ed, and teen drivers ed. This school promises the lowest price guaranteed by law and a great option to save money on your car insurance. Smart learning tools including engaging animations and video, as well as multiple-choice quizzes and online practice tests, will help you stay on top of your driver safety course. There is also a 24/7 customer service available with this school.
7920 Glenview Dr, Richland Hills, TX 76180
A Sense of Humor Driving School provides students with a hassle-free ticket dismissal experience. With this school, you can complete your defensive driving course on your own schedule. Simply study independently, then pass the multiple-choice final exam. A Sense of Humor Driving School is approved by the Texas Education Agency and a member of the U.S. Chamber of Commerce.
4255 Bryant Irvin Rd Ste 205, Fort Worth, TX 76109
First Class Driver has served the Dallas Fort Worth Metroplex for nearly 20 years. This school has helped both teen and adult drivers qualify for their license, learn how to drive safely, and remove tickets from their driving records. They have even trained a number of driving safety instructors. Students of First Class Driver enjoy personal, fun, and entertaining classes in an engaging atmosphere. First Class Driver promises to be your most fun driving education experience, both in the classroom and behind the wheel.
1200 E Davis St Ste 103, Mesquite, TX 75149
Since 1997, Major League Driving School has been family owned and operated, offering both teen and adult driver education courses as well as a defensive driving course. There are multiple locations including Mesquite and Terrell, so it's convenient to make it to your driving class. Knowledgeable staff is state-certified, experienced, and supportive as you learn how to become a safer, better driver.
Visit Austindrivingschool.com for locations near you!
Based in Austin with locations in San Antonio and the surrounding areas, Austin Driving School offers a number of different driving courses to meet the needs of Texas drivers. This school has courses in Teenage driver's education, adult driving, and defensive driving as well as courses for minor in possession offenders, DWI offenders, and drug offenders. Austin Driving School is state certified, bonded, and insured, as well as committed to saving lives, reducing stress, and promoting responsible driving habits.
3575 Lone Star Circle St 118, Fort Worth, Texas 76177
Total Driving Experience focuses on skills-based driving education. Students will enjoy safe, educational fun in a high-performance driving environment. This school teaches students how to drive with a great understanding of car control and handling, helping them to survive the dangerous roads of Fort Worth. Total Driving Experience instructors are race car drivers dedicated to teaching students the essential skills of handling vehicles safely and avoiding accidents.
3044 Old Denton Rd Ste 117, Carrollton, TX 75007
Local family owned and operated Drive Smart Driving School offers full service driving instruction with excellent experience, quality of instruction, and low cost. Students are treated with individual attention and excellent customer service, and instructors offer a high level of expertise. Together, the partners of Drive Smart Driving School have more than 50 years of driver education experience, ranging from teaching teens to drive to completing driving safety classes for adults. Bilingual instruction is available.
6420 Denton Hwy, Watauga, TX 76148
Alliance Driving School provides students with a convenient option for state-approved driver education. Courses for teenagers as well as adults are available. With this school, you'll be able to study with instructors, practice safe driving, and pass your exam to get on the road with confidence.
209 NE Wilshire Blvd Ste A, Burleson, Texas 76028
Burleson Driving Academy is locally owned with multiple locations in Burleson, Weatherford, and North Richland Hills. Teen and adult classes are available, and instructors are licensed by the Texas Education Agency. Each instructor is excited to give students the information and experience they need to become safe drivers.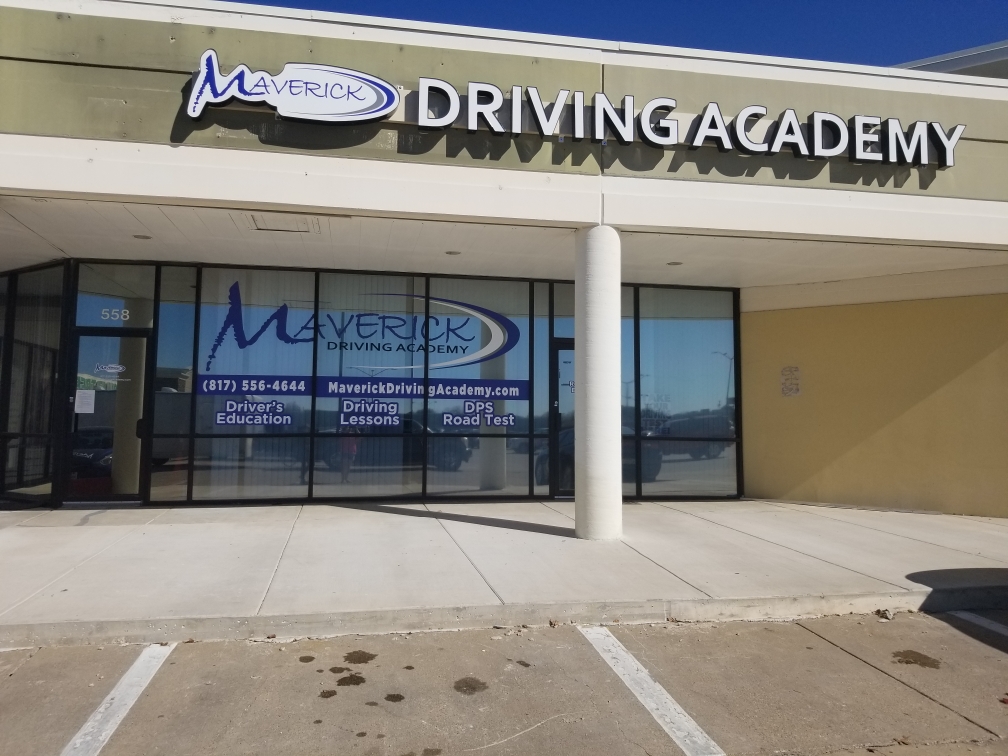 509 SW Wilshire Unit D, Burleson, TX 76028
Maverick Driving Academy serves all of Johnson and Tarrant counties with driving education, with locations in Burleson and Aledo. Driving instruction, as well as defensive driving, are offered by Maverick, and all instructors are certified classroom teachers as well as certified to teach in vehicles. This school takes its responsibility to teach students how to drive seriously with a commitment to providing safe, responsible driving instruction. Courses with Maverick Driving Academy are fun and informative as well as an interactive learning environment.
Want to be added to this list?
Click here
to bring up our submission form. We will be in touch shortly with feedback.